Famine and Dearth database
The Famine and Dearth database contains searchable transcriptions of over 700 multilingual primary sources relating to situations of famine and dearth in early modern India and Britain.
The archive contains texts in ten different languages including Persian, Bengali and Hindi as well as English, and offers English translations for the majority of texts.
These texts cover a wide range of genres, including chronicle histories, gazetteers, official correspondence, legislation, pamphlets, periodicals, plays, poetry, surveys, and fiction and non-fiction prose.
The database has been published as part of the AHRC-funded project Famine and Dearth in India and Britain, 1550-1800.
This project was led by Dr Ayesha Mukherjee (Principal Investigator, Department of English, University of Exeter) and Professor Amlan Das Gupta (Co-Investigator, Department of English and School of Cultural Texts and Records, Jadavpur University), in collaboration with Professor Azarmi Dukht Safavi and her team at the Institute of Persian Research, Aligarh Muslim University, and the University of Exeter's Digital Humanities Team, led by Gary Stringer.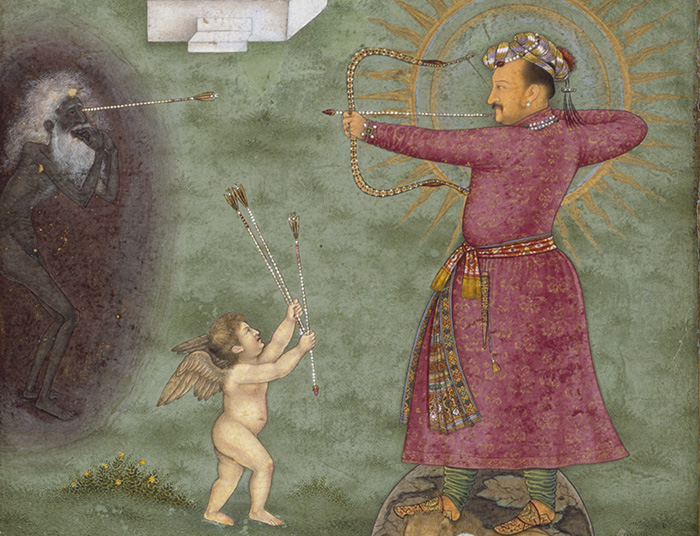 Emperor Jahangir Triumphing Over Poverty ("Dalidra"), circa 1620-1625. Attributed to Abu'l Hasan.
Credit: Los Angeles County Museum of Art (LACMA)
This richly allegorical and ambivalent painting shows the emperor Jahangir serving justice by eliminating poverty, personified as a dark, pathetic, emaciated old man. The inscribed description above the figures, incorporating a laudatory couplet, reads:
صورت مبارک حزرت اعلی که
بتیر کرم نشان دالدّررا ازعالم برانداختند و جهانرا بعدل و داد بنایی از نو پاختند
"The blessed portrait of his exalted majesty, who
By the arrow of liberality drove out any trace of Daliddar [Poverty] from the world,
and with justice and beneficence built the foundation of a new world."