Introduction
by Dr Ayesha Mukherjee
7. Apparatus
Texts/ extracts are prefaced by a brief introductory note, which explains the context, authorship, and selection rationale, to assist any users who are unfamiliar with the source. For the present, we have added introductory notes selectively to those extracts where explanations were most needed, but the PI and CI will continue to add these introductions with the aim of covering all 750 entries.
The metadata panel to the right of the page highlights key bibliographical details, as well as identifying members of the team responsible for different elements.
There are separate browsing functions by author, title, genre, and keywords. In addition, users can search the database in a variety of ways through the search page, or select a random text from the browse menu. The bibliography of secondary literature at the end of this section allows users to begin exploring the scholarly fields relevant to our topic. This is not a comprehensive bibliography, but an introductory one. It will be updated periodically.
During this project, we have experimented with mapping a British traveller's responses during his journeys through famine-stricken landscapes in India. This map of Peter Mundy's journeys is intended as a model for visually representing famine and dearth in other travel narratives in a follow-on project. This map and the project blog (see below) are being used as teaching tools in modules at third-year undergraduate and MA levels.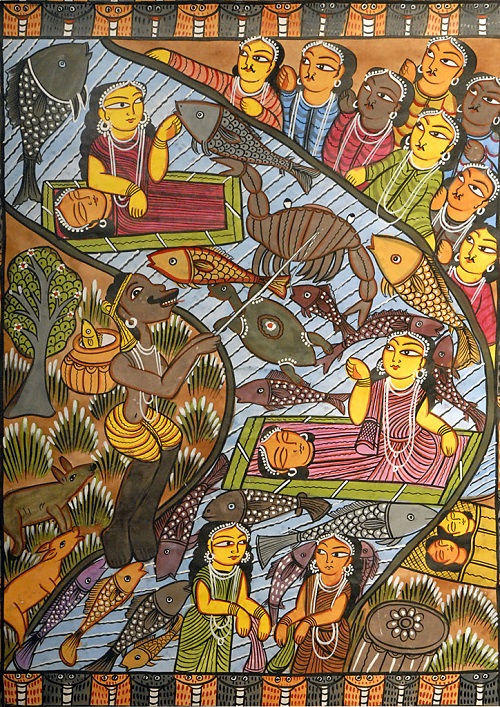 Excerpt from Manasa Mangal (2007). Moyna Chitrakar. Exhibited at "Singing Pictures: Art and Performance of Naya's Women", National Museum of Ethnology, Lisbon (5 July to 31 December, 2007). Photograph: By Jean-Pierre Dalbéra (CC by 2.0, via Wikimedia Commons).
The painting is part of a longer scroll for the traditional narrative poem Manasa Mangal, of the Mangal kavya genre. This panel shows Behula sailing to heaven with the body of her dead husband, to seek justice. The river, its resources and dangers, represented here, features strongly in this poem, allegedly composed in a village on the basin of the river Ajay in West Bengal. The natural world, animals, rivers, landscapes, and climates are an important part of these stories, narrated over centuries by the scroll painters and storytellers of Bengal. This artist Moyna belongs to a group of female scroll painters from the village of Naya, who chronicle their daily lives and adapt their paintings to reflect both traditional themes and current socio-economic issues affecting their community.